Houzz today released the results of its 2018 Kitchen Trends study, which revealed that homeowners are obsessed with clutter-free countertops (75 percent), ingenious storage options (66 percent) and easy recycling (49 percent).
Sixty-three percent of homeowners said adequate storage was the most important feature in a kitchen, followed by the need for space to easily work, play and live (38 percent), entertain (32 percent) and clean (32 percent).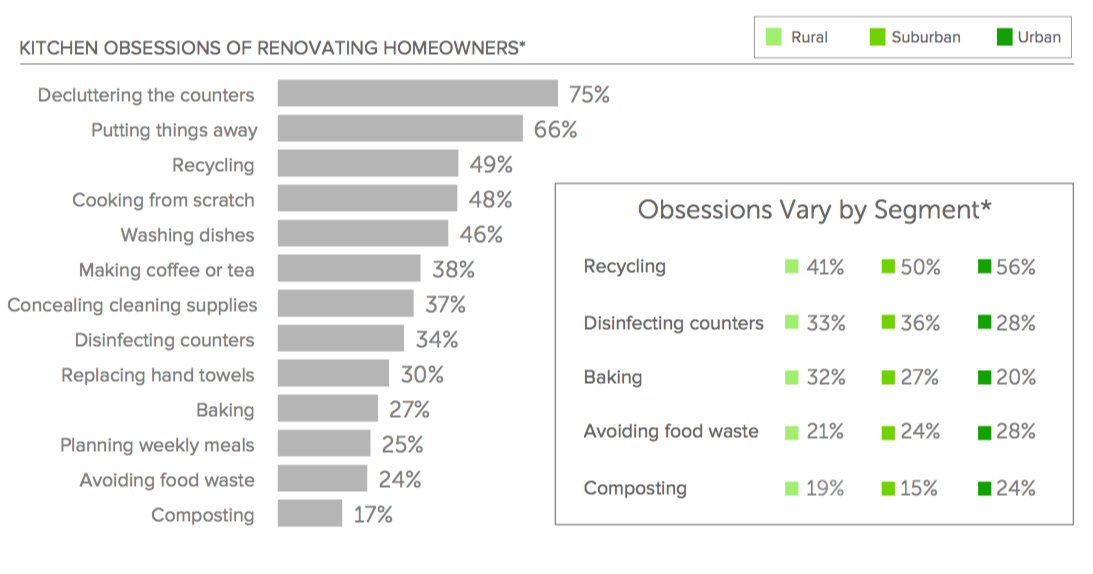 In order to create the kitchen of their dreams, homeowners are spending up to $42,000 to install pull-out waste or recycling baskets (67 percent), cookie sheet/tray organizers (58 percent), revolving corner trays (44 percent), deep drawer organizers (42 percent) and pull- or swing-out trays and shelves (42 percent).
When it comes to the material homeowners are choosing for their new, shiny countertops, granite is falling out of favor with a consecutive three-year decline in popularity (45, 41 and 34 percent in 2016, 2017 and 2018 studies, respectively).
Now, homeowners, especially those in suburban and urban areas, are turning their attention to engineered quartz (43 percent).
In the past year, 87 percent of homeowners decided to change their kitchen decor style, with transitional (25 percent) and contemporary (17 percent) styles leading in popularity among suburban and urban respondents. Moreover, 50 percent of remodelers adjusted their kitchen layout, with L-shape countertops (35 percent) outperforming the U-shape (26 percent).
"Our annual kitchen trends surveys reveal that consumer preferences for products, design, and technology vary not only across urban, suburban, and rural areas, but also evolve over time," said Houzz principal economist Nino Sitchinava in a statement.
"Countertops in particular are having a real moment today as homeowners focus on decluttering surfaces for a sleek and tidy kitchen post-renovation."